Thursday, March 9th, 2017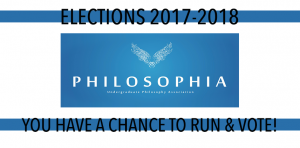 It's that time of year where YOU get a chance to vote and elect your new executive team for the 2017-18 year! Please scroll down for rules/requirements.
–Positions Available–
President
The President is the representative to the faculty. The President is expected to organize the clubs speakers, handle communication with faculty members, and arrange annual events (i.e. grad night, career night, annual conference). The President is also to ensure that there are in fact regular meetings occurring. They are expected to work closely with the VP Finance and VP Equity to ensure that the club runs smoothly and maintains a professional appearance. At staff meetings, the President is expected to be the leader, and organizer with the special authority to declare a vote on any issue contested in staff meetings. In such a vote each executive staff member regardless of title has only one vote (including the President), and the majority ruling is considered authoritatively binding. The President is responsible for ensuring the constitution is upheld, and that the stated purpose is met.
VP Finance
The VP Finance is expected to maintain control and record of the budget (includes bookkeeping of receipts) which they are to formulate prior to its being needed, and to ensure that there are sufficient funds for all events that are planned during the year. This includes allocating funds to the editor-in-chief for The Oracle but does not include the exact costs of the oracle which are managed by the Editor-in-chief. In order to carry out this task, the VP Finance is expected to fill out relevant funding forms with YFS, SCLD, the Philosophy Department, and Vanier College Clubs Council. The VP Finance is responsible for filtering the club's e-mail regularly and forwarding or replying e-mails regarding the club's assets in a timely fashion to the appropriate parties. The position also requires that the VP Finance keeps in touch regularly with the President and other executive members regarding what needs funding. In addition, the VP Finance is responsible for passing on relevant information to the VP Finance of the next year.
VP Social
The VP Social is expected to act as the inter-club representative and leader at inter-club events. The Student Representative is responsible for holding social events for members (e.g. game nights, philosopher's cafe, etc), actively recruiting new members, maintaining a presence on campus and providing an easily accessible means of communication between students and Philosophia. This position includes promoting Philosophia at university events/activities/social media (Facebook, Twitter, YUConnect), keeping members updated on meeting times, opportunities provided by the club, as well as, any other additional information new members or students may require.
VP Equity
This position includes attending most weekly gatherings to ensure that the code of conduct is being adequately followed. The code of conduct will act as a guide to maintain a pro-inclusive, non-oppressive environment for students to be able to participate in gatherings and explore philosophy and develop critical thinking skills in a positive space. This position hopes to promote an intellectual community that is inclusive, dynamic, safe, and thriving. The VP Equity is also expected to work closely with other executive members to ensure all executives are being treated equally.
Administrative Assistant
The Administrative Assistant is responsible for sending and responding to emails in a timely manner. Such emails include emails notifying members and undergraduate students of weekly meetings and social events, inviting future speakers, and answering any inquiries regarding the student association. The Administrative Assistant is also expected to maintain contact with YFS, SCLD, Vanier College, York University's Philosophy Department, as well as, other student associations affiliated with Liberal Arts and Professional Studies (LAPS).
Volunteer Coordinator
The Volunteer Coordinator is responsible for managing all volunteering aspects on behalf of the student association. This position includes recruiting volunteers, reviewing the student association's needs, as well as, finding the proper placement for volunteers by assessing their skills/previous work or volunteer experiences. The Volunteer Coordinator is also expected to help table for campus/club events, be present and be of help before and after events/meetings, as well as, coordinate events with the VP Social.
Editor-In-Chief
The EIC is responsible for ensuring the annual undergraduate journal, The Oracle, is produced, of high quality, and by fair procedures by the date of the journal's launch. The Editor-in-Chief is responsible for ratifying all specifications for the journal as per the advice of the executive body at large. As well as delegating tasks for the: advertising, promotion, and launch of the journal. They must ratify or establish the ground on which to assess submissions to find the best suited for entrance into the journal. To do this the editor has authority to appoint submission editors which vote on the essays in a blind scenario. The editor-in-chief is also expected to check the club e-mail regularly and forward or reply to appropriate e-mails in the winter term. Finally, they must pass on all relevant information to the next year's editor-in-chief.
—
Requirements
1) MUST attend at least 2-3 meetings to run for a position*
2) MUST be an undergraduate student at York University to run for an executive position
3) Please email us by WEDNESDAY APRIL 5TH if you are interested in running for a position. Include your name, position of interest, program of study, a brief introduction of yourself and why you are interested in running for an executive position (100-200 words). Our email is philclubyorku@gmail.com!
*You also must attend at least 2-3 events/meetings to be eligible to vote. You may also vote for yourself.
– You do NOT have to be a philosophy major to run for a position, however, a philosophy major or minor for the President position is encouraged and preferred.
– While experience for each position is not necessary, having the experience for a position is an asset.
– The new team will receive more details about their role/training by the end of April.
—
If you have any questions, please do not hesitate to email us. Again, our email is philclubyorku@gmail.com, or stop by our office at VC 101B. As always, food/refreshments will be available to all who attend. We hope to see you there!
Regards,
The Exec Team